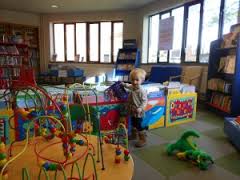 I took Elsie to the library today. It wasn't her first trip, she's been once or twice before but I had a book to collect and so we wrapped up warm and went out for an hour. As soon as she was in there off came her coat (I managed to persuade her it was best to keep her boots on) and she dived into the books on offer. She was happy to wander about, helping herself to different books that caught her eye. As you can see from the photo there was plenty to choose from. They even had a box of toys and a large selection of board books for toddlers to enjoy.
It delighted me to watch her explore, taking anything that caught her eye, the freedom to rummage through a treasure trove of books. It's her passport  to worlds real and imaginary. Who knows what she'll discover in the pages of a book. I remember going to our local library, almost daily. I was allowed to take out three books at a time and would walk to the library on Isaac's, Hill, up the stone steps, through the large wooden doors into paradise itself. I can still see it now in my mind's eye, the layout, the parquet floor, where the books were placed alphabetically in relation to the room. The stairs leading to the reference library, the door on the left to the adults library. here I discovered  Moomins, Malcolm Saville, Rosemary Sutcliff, Barbara Willard, The Brontes. Just writing their names makes me remember happy hours, curled in a chair, totally absorbed in a created world that was sometimes more real than the life I was part of. Isn't she lucky to have all that waiting for her.
What was your favourite book as a child? Do you still have it on your shelf ?