And so we have the final instalment of the Waterway Girls Trilogy. I have to say that I have looked forward to reading it with bitter sweet anticipation – wanting to know what happens to Polly, Verity and Sylvia but not wanting to lose them from my life. They have become old friends.
It is 1945 and the girls are still working on the canals, squashed in the cramp quarters of the Marigold and Horizon, and have become a beloved part of the boater community. This time around the focus is on Sylvia and the choices she must make for the future. Sylvia was brought up in a Catholic orphanage and we learn of her childhood and a promise she made to her friend. Could she ever go back on her word when circumstances force her to think again?
The three girls are a family, working together, supporting each other, facing danger from the V1 and V2 rockets and trying to keep those they love safe on land as well as on the canals. The description and characterisation is so finely wrought that I was frequently stunned when I stopped reading to find myself on my sofa instead of hovering on the counter of the Marigold, watching as the girls lives unfolded.
Although Hope on the Waterways revisits the events of the two previous books – The Waterway Girls and Love on the Waterways – Milly Adams is masterful at weaving in the back story for new readers without slowing the pace for those who have read the other two books.
More new characters are introduced to complement those that are already so well loved. Will they all survive the war? Will they get their happy endings?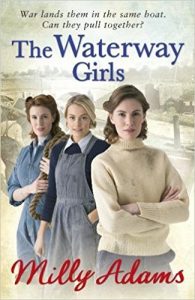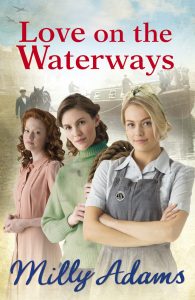 I shall miss Polly, Sylvia and Verity and the world of the Inland Waterways – and the Idle Woman who took on such gruelling work. It wasn't glamorous in any shape or form; I had never heard of the important role these women played and their contribution to the war effort before I was introduced to this series. What an insight Milly Adams gives to the reader with her deft description of the harshness of daily life aboard the barges. These girls will live in my mind forever.
And I salute the women that took on this vital work delivering coal, steel and other cargoes in cramped and difficult circumstances. If they weren't tough to begin with they certainly would be at the end of their journey.
Milly Adams lives in Buckinghamshire with her husband, dog and cat. Her children live nearby. Her grandchildren are fun, and lead her astray. She insists that it is that way round.
Milly Adams is also the author of Above Us The Sky and Sisters At War.