War Lands them in the same boat. Can they all pull together?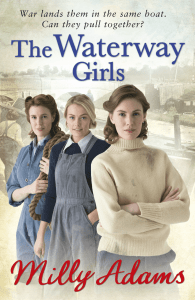 I'm thrilled to welcome Milly Adams to my blog today to chat about her latest novel, The Waterway Girls.
October 1943, West London Nineteen-year-old Polly Holmes is leaving poor bI'm thrilled to welcome Milly Adams to my blog today to chat about her latest novel, The Waterway Girls.ombed London behind to join the war effort on Britain's canals. Stepping aboard the Marigold amid pouring rain, there's lots for Polly to get to grips with. Not least her fellow crew: strong and impetuous Verity, whose bark is worse than her bite, and seasoned skipper Bet. With her sweetheart away fighting in the RAF and her beloved brother killed in action, there's plenty of heartache to be healed on the waterway. And as Polly rolls up her sleeves and gets stuck into life on board the narrowboat – making the gruelling journey London up to Birmingham – she will soon discover that a world of new beginnings awaits amid the anguish of the war.
Welcome, Milly!
Work on the canal was such a hard life it would make you wonder why anyone would volunteer for it at all. I think the reasons your characters had for taking on the job were totally reasonable but did many women take on the role?
Not an enormous number, and many didn't stay because it was so hard. It wasn't comparable in size, to the Land Girls scheme, but then there were many more jobs on the land.
 Does a boating community exist as such or has it died out completely? It came across as very much akin to the travelling community.
I think it's a different community now. People do live on narrowboats, but don't work them. There is of course, a different economy – the holiday rentals. This has come about fairly recently, and the renovation of the canals owes a great deal to the dedication of the voluntary organisations and their supporters who determined to get the waterways dredged, the banks cleaned up, and in working order again.
The trains, and lorries put the canals, or cuts, as they were called, out of business.
The boaters were fascinating. They lived on the 'bank' to begin with and merely worked their boats. But as times grew hard, they moved themselves onto their motorboat and butty, living with their children in cabins that were about 9' x 7' only. The bulk of the narrowboats had to be reserved for the holds. In this way, they eked out a living. If they didn't work, they didn't eat. Their accent owed more than a little to Birmingham, which is where Tyseley Wharf is positioned – the frequent destination of the freight they carried. Education was difficult because they were seldom in one place for more than one or two nights, but there was a strict code of behaviour. I could go on, and on – all interesting and praiseworthy.
The descriptions of working through the locks and canals was so authentic. Did you travel on a narrowboat for your research and if so where did you travel, and did you enjoy it?
I live at High Wycombe, and am close to the Grand Union canal route from London to Birmingham. I went on a narrowboats some years ago, but not recently, but walk the towpaths around here. There is a really pretty stretch, the Aylesbury Arm, which turns off the main waterway, and runs for just six miles to Aylesbury, where you can turn the pair (the motorboat and butty) once you've off-loaded your cargo, and return to the main cut.
Did you take notes, research and then write or were you writing the novel/scenes as you went along?
As I walked, it stimulated my imagination. Remember that it's a work of fiction, so that though the setting has to be as accurate as you can make it, it is the story that the setting carries that brings it all to life. It is important to interweave the characters around it. So I always try to BE the characters, but use memories of my own efforts with a windlass at the locks, staying in that moment, the feel of it in my hands, the look and smell of the locks, and the banks, the wildlife – but at the same time, it is necessary to remain aware that you are writing about a different time, so an awareness of wartime must be included.  
There were a lot of unsung heroines in the war and I had never heard of the valiant work of women like Polly, Bet and Verity. The Waterway Girls did not have a glamorous uniform and the work was incredibly hard and dirty. Did you find that there was much recorded evidence of the work these women carried out?
There is some on the internet, and several books. They're well worth reading, and of course, when you decide to write a book somehow or other you always, always find you are talking to someone, who knew someone, or you find someone who taught boater children. And you put all the reminiscences together and create what is hopefully the essence of that time and experience.
It's the essence one is always after.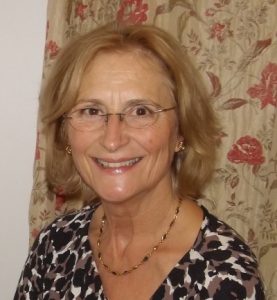 Milly Adams lives in Buckinghamshire with her husband, dog and cat. Her children live nearby. Her grandchildren are fun, and lead her astray. She insists that it is that way round. Milly Adams is also the author of Above Us The Sky and Sisters At War.
The Waterway Girls is published by Arrow. Price £5.99
The next stop on Milly's tour is Jaffa Reads Too. Thanks for stopping by.