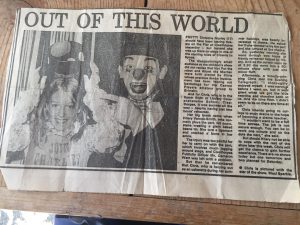 Making the most of every opportunity
This is my friend Chris Suich. We met  at school when we were 11. Chris was a fine actress and singer and took the lead role in many of the school drama productions. I always remember her as Nancy in Oliver. She was wonderful, and very talented. Many years ago, when we were teenagers, we worked on Cleethorpes Pier – Chris front of house,  me back stage.
You might have read some of her posts on Frost magazine about living and laughing with Alzheimer's.
I visited her and her husband, Bob last summer. Bob was the theatre manager on the Pier and he and Chris married when Chris was 18. Her lovely Bob now has Alzheimer's and life is a daily battle for them both, in so many ways, but Chris was as cheery as ever and we enjoyed our time together. Some of Chris's photograph albums were on the table and I flicked through them as we chatted. They contained so many happy memories of  life with their two boys. Chris is not glum, she never has been and I asked if I could share this article that appeared in the local newspaper which I'd I found among the pages of her books.  I had forgotten the event but it made me laugh so much. It's a typical tale of show business.
During the summer the pier had a variety show in the evening and in the day there were all sorts of productions – one week Animal Quackers, a talent show, Planet of the Apes. It was a big melting pot and everything went in. Clowns in Space was the production this particular week.
Disaster struck when one of the cast fell, tore a ligament,  cracked a bone and couldn't go on. Nothing funny about that – until we read that the actor playing Hot Pot the Robot was dressed as a baked bean can at the time! With only two hours rehearsal Chris took the stage. I still laugh about the thought of the huge baked bean can turning up at A & E!
And that is show business – there's a big break around every corner – 'scuse the pun, I couldn't resist.