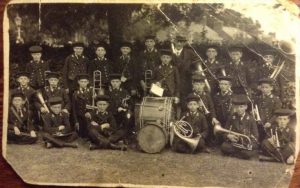 The Palace Orchestra
When I put a call out for memories regarding the Palace Theatre in Grimsby I had no inkling of the richness of stories that would come my way – and how those stories would link to my own 'story'.
Annette Taylor contacted me to tell me her father, Stephen Ellis Smith played in the orchestra there from 1949-1951 . Annette and her brother, Sam have been researching their family tree and have very generously shared their story with me. This is a small part of it:
Like many other theatres there were two shows a night at the Palace, six days a week.  Dress rehearsal was on Monday dinnertime (that's lunchtime to southern readers 😉 ) It would last for one and half hours and most of the musicians arrived by bicycle, which they left at Barraclough's Sand and Gravel Merchants on Alexandra dockside. At twenty past six they would assemble, ready for curtain up at six thirty. The second show would start at eight and they would be finished just after eleven. For this they were paid the princely sum of £6 -12s – 6d – which came in a brown envelope.
I am so grateful for Annette and her brother, and people like them who record the everyday things that seem of no importance. But it's these small details that take people right back to when they received their own brown pay packet – and then the memories flow easily, and one memory leads to another.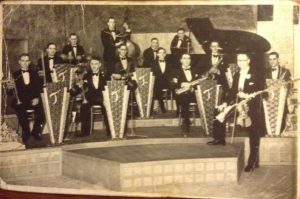 Stephen Ellis Smith was taught to play brass instruments when he was in Hesslewood Orphanage, Hull. He was born in Ripon Street, Grimsby and went to the orphanage when his father Fred, who was only in his 30s at the time, died in an accident.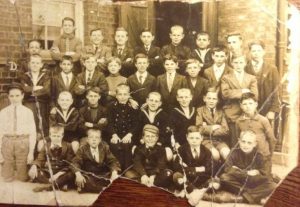 And this small detail links to my own research for Christmas with the Variety Girls. In one chapter, just before Christmas some of the cast go to entertain the children at Brighowgate Children's Home. The best part of my research came from a book I found in the local history section of Grimsby Library. It's called Brighowgate Home Revisited  by former resident P N Gough.
It was a rather hurried read for me, looking through so many books in the limited time I had, and I have searched high and low to get my own copy but no success so far. As well as the author's recollections it contains memories of a member of staff and other children – one of whom is Ronald Baker. He mentions a Mr Bill Roberts who came to the Home each week to teach children to play brass instruments. Ronald became a bandsman, bandmaster and music teacher – which links so wonderfully to Annette's father, Stephen who played the trumpet at the Palace.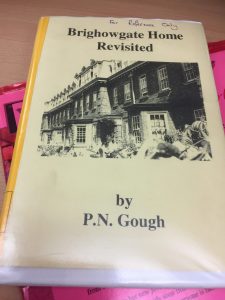 Brighowgate Home, Grimsby
When P N Gough was a resident at the home there were over one hundred children there from the ages of two to sixteen. He relates his story with brevity and cheerfulness and it is clear from his writing that he had good memories of his time there.
'I can still feel the warmth of the Home at Christmas, the smell of the Christmas tree, and a feeling of being wanted.'
He describes how the Home was decorated at Christmas, how there was a piano one end of the hall and a Christmas tree the other. During the winter, once a month on a Friday night reels of silent films were loaned from Gordon Lock, the chemists in Chantry Lane.  Charlie Chaplin, Popeye and the Three Stooges would top the bill.
From this book I learnt that the boys sat one side of the hall, the girls the other and I made sure the children in my story did exactly the same.  But the best discovery of all was when I turned the page to find that Issy Bonn went to see the children when he was appearing at the Palace Theatre. He possibly sang a few songs and before he went he left thirty shillings to be shared between the children.
'We had 3d each and felt like millionaires'
The Happiest New Year of All
My gran had a stack of old music that she kept in a fruit crate in the cupboard under the stairs. When she was in a good mood she would let me get it out and look at the wonderful illustrations on the covers. There are two things that I remember quite clearly – one for I'm Forever Blowing Bubbles and the other the name Issy Bonn. What a strange name for a grown-up I thought then.
I still have some of her sheet music. I was sure I had one with Issy Bonn on the cover. I rummaged around and found it so that I could include it with this post. And there was the magic of it. The song was The Happiest New Year of All. And readers of Christmas with the Variety Girls will know just how apt that is. Somehow there is magic to writing of any kind, drawing in all those memories that are floating about in the ether. And so many more stories to come.
If you have a memory to share you can use the contact form, email me at tracy@tracybaines.co.uk or pop over to my facebook page @tracybainesauthor
And if you'd like to keep up to date with news of my books, events and giveaways you can sign up for my free monthly newsletter here.