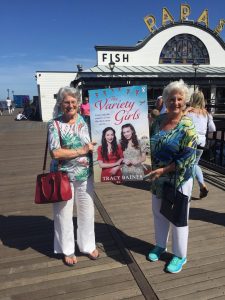 The Best Laid Plans
Last summer I had plans. We all did. Such optimism and not the slightest hint in the air that things wouldn't play out as we had imagined. My book, The Variety Girls would be launched in February and I had a canvas printed that I would use for promotion. First stop was my home town, Cleethorpes and the Pier where I used to work backstage. The Variety Girls is set in Cleethorpes and an old image of the pier features on the cover. This year I was going to travel to various piers and get lots of different 'Variety Girls' to have their photo taken with the canvas, and tell a little of their stories. But that will have to wait. Until then here are my debut Variety Girls.
In the photo is my Mum, Joan (left) and Janet Evans (right) who is married to mum's cousin, Ray.
Janet has a million stories to tell and she makes you laugh the entire time – a real entertainer – perhaps it is in the blood?
Janet's grandmother, Nora was a true variety girl in very sense. Nora was a dancer who travelled the world, danced until she was almost ready to give birth – being hidden further and further back in the chorus line the larger she got. Not long afterwards she left her child with friends and sailed off to Mexico to do a tour there. This was not uncommon years ago, many variety artists, actors and entertainers left their children behind with relatives instead of taking them all around the country. It's hard life if you don't make the big time – and hard enough when you do – you may have money as a cushion but there are many other things that complicate life when fame comes knocking.
Janet's storytelling has been such a help while writing The Variety Girls – both with research and inspiration. It gave me a rich background to work from and that gave me confidence telling my tale – especially book two, Christmas with the Variety Girls. If one of my characters became pregnant could she keep working? Well, yes she could!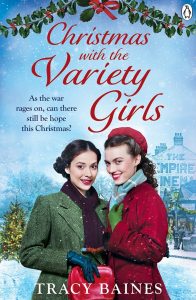 Theatrical Connections
Janet's second cousin was famous impresario, Dick Ray and his career makes interesting reading.  Janet's grandmother and Dick's mother were sisters. Born Richard Marks – he along with his brother, Raymond had a variety act. When they appeared in Cleethorpes they didn't stay in digs, they stayed with family. Janet remembers them rolling up the carpet in the front room and practising their tap dancing on the wooden floorboards. Janet and her sister were allowed to sit in the corner and watch as long as they didn't speak. What a wonderful picture it paints, doesn't it? Jessie and Frances did a similar thing in the Variety Girls inspired by Janet's story – and there are so many more to tell.
The legendary actor and comedian, Peter Sellers was Dick Ray's cousin and while in Jersey Janet missed out on a trip Guernsey to have lunch with him – for which her poor husband has not been forgiven all these years later  – and rightly so 🙂 Peter Sellers was perhaps as famous as anyone could get, but it didn't seem to bring him much happiness. There are many highs and lows in every life – show business just seems to magnify them – and it's hard to play out your mistakes in public. I'd rather be standing in the wings anytime than step out onto the stage – except in my imagination.
Here's hoping that before too long I can stroll along the beautiful piers around the UK and find more Variety Girls with stories to tell.