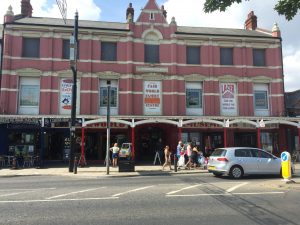 When I started sharing news about the Variety Girls different people made contact through a Facebook page that I belong to – Cleethorpes Memories.
One of them was Patricia Dickens whose father, Jack Webster was stage manager at the Empire Theatre in Cleethorpes from 1946 until it's closure in 1960.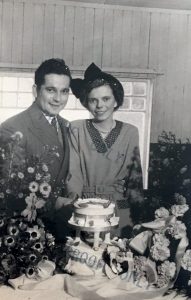 Jack's Career
Jack started his theatre career as a projectionist at the Tower Cinema, in Grimsby and then moved on to the Palace Theatre ( which features in book 2) – Christmas with the Variety Girls.  He joined the Fleet Air Arm during the war where he organised shows for the troops. My father-in-law was also in the Fleet Air Arm during the war and was involved in forces entertainment – I wonder if they ever met?
After the War
During the war the Empire was requisitioned and became a WVS canteen for the troops, providing refreshment and entertainment. When Jack was demobbed he came back to Cleethorpes and was busy with the refurbishment of the Empire Theatre ready for its reopening in 1946. He met many famous stars of stage and screen among during his time there – Tommy Cooper, Sabrina, Frankie Vaughan and Jimmy James to name just a few.
Stars of Stage Screen and Chip Shops
I imagine he was Stage Manager at the Empire when Evelyn Laye appeared there after the war – she mentions appearing in Cleethorpes in her biography – Boo to My Friends. Will Fyffe, son of the famous Scottish comedian was her accompanist.
Between twice-nightly shows I said to Will, 'I can't stand this stuffy dressing-room any more, let's go out, and get some fish and chips.' There was a small shop around the corner from the stage-door."
I wonder if it was Becketts fish and chip shop she was talking about? It's still there, serving fish and chips as it did when I was a child and their fish cakes were the best in town. My Nanny Lettie had a friend who worked there whose name was Ann Cod – which I thought was the perfect name for someone in the fish shop. There was another lady who worked with her whose jet black hair was fashioned in a 1940s style reminiscent of the 'victory roll' . I never knew her name but I remember her hair so well!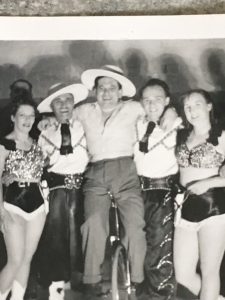 Memories
Patricia says,
I do recall that mum used to look after a new born Michelle Dotrice whilst her parents were on stage  – and also there being live bears for the Babes in the Woods panto. They belonged to a Doreen Peterson."
I would think there are a million stories linked to the theatres of the past – the showmanship, the artistry, the passion. All I can picture is people coming out of the theatre and spilling out onto the streets after a good night's entertainment. How happy it makes you feel. How memorable those times are.
Dave Smith has delved deep into the archives and runs another Facebook page where you can find more information, memories and photographs – Cleethorpes Empire Theatre.  Very few photos of the interior remain so I was able to create my interior to fit my story. I thought of how people remember theatres – mostly red and gold, the small boxes either side, the stalls and the gallery. I know exactly how the inside looks but perhaps readers have made up their own image – I hope so.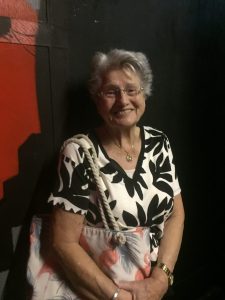 At the moment the Empire is an amusement arcade but some of the original features remain – the proscenium arch and some small windows and cornices in the upstairs rooms. There was a tour of the Empire as part of Heritage Open Days last year and I went along with mum and my husband. It was great to get a peek at what remained – even if it meant that mum had to walk among the spongey trampolined floors of Laser Quest to do it – but she did – not bad for 84 eh, Mum