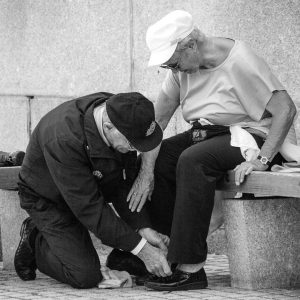 The Shop Around the Corner
Round the corner from where we lived was the chemist shop on Market Street . There was a  window to the left, a door to the right which led into the dark interior. Saunby's. The shop was small but perfectly functional for its purpose.  Cabinets and a counter ran to an L-shape, a doorway at the back leading to the dispensing room. The shelves were orderly, the labels facing forwards, full or unctions and potions and remedies.  I barely recall what Mr Saunby looked like, only that he commanded respect from both his position and his demeanour. It was the shop my mother sent me to if she needed cough medicine or Vicks Vapour Rub, and while Mr Saunby reached for my purchase I would stare at the labels on the things behind the counter. Small tins of Germolene, Andrews Liver Salts and TCP among a host of other bottles and jars. But  knowing Mr Saunby was the chemist, and that he and his wife lived at the end of our street, was the extent of my knowledge. Until one day, when I was about 11 or 12 and walking down the street on my way to the shops.
Mrs Saunby came out of her door as I passed and called to me. I went back, puzzled. I hadn't done anything wrong had I? She asked if I'd mind running an errand, asked me inside, the relief showing on her worried face as I followed her. Mr Saunby was sat in his chair. Silent. She gave me money from her purse and asked me to go to Broadbent's – another chemist – to buy a box of Complan. I had no idea what Complan was or why it was needed, and no idea why she asked me in. I didn't think she knew me, other than the fact that she must have watched me walk past her window.
Mr Saunby, I realised later, had had a stroke and was sat in his chair, no longer the erect and professional man he once was. He might have been sat in his shirt sleeves, something he would never do when presiding over his shop. Was I afraid? I don't think so, it was just odd, and I was young and didn't really understand. I just remember feeling curious, and a little sad. I got the Complan and delivered it, along with her change. She was grateful but I never saw her to be asked again. I don't recall them moving or anything else – only that one day, when she asked for help. She must have been loathe to leave him.
The New Owners
The  shop was sold and bought by the newsagents next door, who knocked through to extend. They were lovely too, Mr Oliphant and Mr Lewis. When my little sister was ill they sent Mini Milk ice lollies for her. It was the same shop I sent her to for a tin of elbow grease – but less of my wicked childhood ways.
But back to Mr Saunby – or rather Mrs Saunby. I was thinking how they must have struggled to manage. He was the pharmacist, a well respected businessman (I think he was a councillor too – a man of community spirit). He had a bearing that was  appropriate for someone in his position, of responsibility, of handing out the correct medicine , correct advice; and now his life was diminished by old age and illness.
I was thinking only a few months ago would people trust one another to do that now? I talked it over with my mum. We decided they wouldn't. Children would not go into someone's house. We drill it into them all the time.
And yet.
People do want to help. Over a quarter of a million people have volunteered to help the NHS in less than 24 hours.
People are reaching out to each other as they haven't done in years. I have found myself calling elderly friends, asking for other people's phone numbers, people I only know because they have been talked of. I have taken a deep breath and introduced myself – spoken of the mutual friend and offered to be there if needed for prescriptions, shopping, vet visits, any small thing to reassure them. Perhaps we will all begin to reach out to each other and trust again. Wouldn't it be lovely if  after this is all over people stay good neighbours – even if that neighbour isn't in the same street – or perhaps the same town. Dark times can bring out the best in people. Stay safe. Stay home.