Helen Yendall's  latest book How to Start a Creative Writing Class has recently been published and is available from Amazon.
It's a comprehensive look at what it takes to set up a class, teach it and keep it running and will be a valuable guide for anyone thinking of starting their own writing class.
What do you enjoy most about running a class?
The teaching is definitely the best bit! I get a real buzz when a class goes well and there's lots of laughter and lively debate. The time always flies, too. That's one thing about teaching  – it can be nerve-wracking, challenging, hard work, fun –  but it's never, ever boring!
And the least?
I'm a bit of a perfectionist, so I have a tendency to 'over prepare' – which means that preparation for a class can take me a lot of time. I wish I was more laid-back about it and could just turn up to teach a class with the minimum of preparation  – and 'wing it'! But that's just not me. So, the hours of preparation is probably the bit that I like the least.
What do you think are the benefits of joining a creative writing class?
There are lots of benefits – some perhaps more obvious than others – but in addition to improving your writing skills, I think a creative writing class can be a great way to meet like-minded people and new friends. I met one of my best friends at a creative writing evening class over 20 years ago and 5 years ago, the woman I was paired up with on a day course, later became my writing buddy.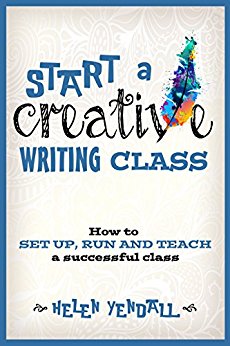 It takes a lot of creative energy to promote and run a class – you have to be very giving and this can sometimes be quite draining. How do you protect your own writing time?
This is something I cover in the book because if you're not careful, when you teach creative writing, your own writing can take a back seat.  It's quite hard to do if you're a softy like me but you have to be quite strict about what you will and won't do, in terms of homework and contact with students between classes and over holidays. I also try to limit 'social time' spent with students – even if I really like them as people (and there are always students in my classes that I could quite happily count as friends). It's important to maintain a little distance.
Your short stories have appeared in many magazines and you have published two collections. In  2015 you won The People's Friend Serial competition. Was this your first attempt at writing a serial?
It was my first attempt at a serial – or indeed, at anything that long. The competition was only open to those who hadn't had a serial published in People's Friend before, so that encouraged me to have a go. It was a good discipline although I found it very hard to keep to the 16,000 words. I had so many ideas and material that I could easily have written double that!
Have you gone on to write more serials as a result or do you mainly concentrate on short stories?
I haven't written another serial – yet – but I do have an idea for another one. It's historical too (my first one was set in 1905) so I'll need to do a fair bit of research before I start. The thought of that is probably what's holding me back!