Only a weekend in Spain – what could possibly go wrong?
At their hilltop villa, Lucy awaits the arrival of her brother and sister for their mother's annual birthday party. Although this time, their mother won't be there.
Struggling at Malaga airport with her fractious four-year-old, Jo has already lost her case and is dreading arriving without its precious contents.
For Tom, returning to Casa de Sueños stirs up all sorts of memories- then a beautiful face from his past appears.
What was the inspiration for House of Dreams and is Casa de Sueños based on a real villa?
I heard someone on the radio talking about how you can never know your parents, because you only meet them up to 40 years into their lives. Even then, most children don't have much interest in their parents' lives until much later when it's too late or forgotten. I thought that was a really interesting premise for a novel.
Casa de Sueños is mash-up of a couple of houses that I've visited in southern Spain outside the village of Gaucín. I didn't want to use either of them exactly but did want to use the extraordinary view that extends from Gaucín right across to Gibraltar and, on a good day, to the African coast.
When you are developing an idea what comes first  – character or setting?
I tend to think about the characters first, who they are, what journey they're going to go on in the novel. Although I loved writing about Spain, that definitely was secondary for me. What mattered was what motivated the characters and how they responded to the obstacles and situations they faced. For instance,  siblings Tom and Jo have very different reactions to not knowing who their separate fathers are.
The description of Spain and the Spanish way of life was wonderful and so deftly described without intruding. Do you know that part of Spain well?
I first went there on a walking holiday with my mother, after my father died. We walked between Gaucín and Ronda, through cork oak forests, over mountain passes, visiting white villages. I've never forgotten it and wanted to go back. When I decided to set the novel there, I went back again, stayed in Gaucín itself and explored the area all over again.
The novel evoked many happy memories of family summer holidays and get-togethers – the fun as well as the friction. I particularly enjoyed the relationships between the three siblings. Birth order is so fascinating. How difficult was it to get into the mind set of each one? – I am asking as the eldest and bossiest of three sisters.
I'm the oldest and bossiest of two sisters! Once I'd decided on the story arcs for Jo, Tom and Lucy, they began to develop by themselves. I didn't find it hard to get into their mindsets because, after all, by then I knew them better than anyone else.
You are books editor for Woman and Home and I've thoroughly enjoyed your selections each month. How do you find the time to read other authors and write your books? Do you read them at the same time or do you binge on one or the other?
Thank you. That's lovely to hear. I used to be a publisher so I've read for a living all my life. I have a book in my bag wherever I go, so I read on the bus, in the tube, while I'm waiting. When at home, I tend to write during the day and read at night, unless I'm hideously close to my deadline in which case, I have to read during the day too. I've got used to compartmentalising so I can usually concentrate on one thing without worrying about the other.
Do you already have the setting for your next book?
It's mostly set in Kent but there will be a section in the French Alps during the summer. It's beautiful there then. I don't ski but walking in the mountains is wonderful and there are spectacular views of course. I'm looking forward to writing about them.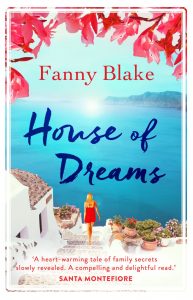 Thank you, Fanny.
I read House of Dreams during a miserable spell of English weather and was immediately transported to southern Spain. A great read to pack in your suitcase but if you're saying closer to home and the forecast is drab it's the perfect escape.
Available from all good bookshops now.