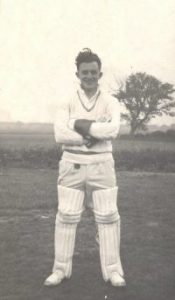 Thinking of my dad today as is my habit since he died.  He loved words, loved poetry and could quote reams and reams of it – much to the disappointment of the grandchildren who didn't appreciate it at the time. But it is what I most remember about him – his poetry. Vitae Lampada was one of his favourites and I think when any of us hear it we think of him. The way he intoned the words, his expression, the tension in his voice as he recreated the playing field. I can hear him saying it now. It makes me feel close to him again.
It's such a shame we don't learn poetry by rote anymore. I remember learning The Lady of Shalott at school – one verse. Each girl had to learn one verse and we would recite in order so that we could go through the entire poem, child by child. I wish we had learned more.
What a comfort poetry can be, what solace in times of grief and despair. I'd love to be able to encapsulate a story, a feeling, an emotion, an event in so few words but sadly I don't have the talent. But then there are so many wonderful poets out there to read, past and present that I don't have to.
A poem can grab you and stay with you forever. I've shared a few of those that have resonated with my at certain times in my life on this blog. I'm sure there will be more to come over the years but for today, and for dad- Vitai Lampada – play up! and play the game!
Vitai Lampada
There's a breathless hush in the Close to-night
Ten to make and the match to win
A bumping pitch and a blinding light,
An hour to play and the last man in.
And it's not for the sake of a ribboned coat,
Or the selfish hope of a season's fame,
But his Captain's hand on his shoulder smote
"Play up! play up! and play the game!"
The sand of the desert is sodden red,
Red with the wreck of a square that broke;
The Gatling's jammed and the colonel dead,
And the regiment blind with dust and smoke.
The river of death has brimmed his banks,
And England's far, and Honour a name,
But the voice of schoolboy rallies the ranks,
"Play up! play up! and play the game!"
This is the word that year by year
While in her place the School is set
Every one of her sons must hear,
And none that hears it dare forget.
This they all with a joyful mind
Bear through life like a torch in flame,
And falling fling to the host behind
"Play up! play up! and play the game!"
Sir Henry Newbolt