A Skegness Chick
I've often wondered why some people love to perform and entertain. I can't think of anything worse than standing up in front of an audience to sing and dance – perhaps it's because I can't sing or dance, although that doesn't stop some people.
But is it something you're born with? or is it something you learn to do?
My father-in-law, Ken Baines loved to entertain. He started young:
'I remember my first ever appearance in public. I was five years old at the time. My first steps to 'theatrical stardom' were taken on the stage of the

Arcadia Theatre in Skegness

, in nineteen twenty-eight.  I still remember the tune and the words of our opening number, 'We're the Skegness Chicks and the May Girls too'.
He was a very talented young man, an engineer, a qualified ballroom dance teacher – and a member of the local carnival band. Here, his main incentive was that as he didn't have his own instrument they would lend him one and teach him to play. He opted for a trumpet, and many noisy hours were spent practising until he was judged proficient enough to play in the parades. I can  imagine how thrilled the neighbours must have been.
But that was Ken.  He was always busy and always looking for opportunities. He was like that his whole life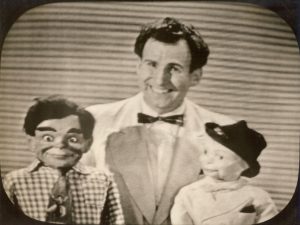 The Fleet Air Arm
The 1939/45 war interrupted both his trumpet playing and dance teaching, and his time was fully taken up repairing and servicing aeroplane engines in the Fleet Air Arm. He was a competent aircraft engine fitter, working in the Rolls-Royce engine-testing and assembly factories. When he joined the Fleet Air Arm Ken  never dreamed that it would provide the spur to his theatrical ambitions. He wasn't the only one. Many great entertainers got their first taste of performing in concert parties during the war.
After basic naval training, Ken was sent on a specialised technical course to an RAF training station. These workshops boasted a fine military band, used for regular parades and specialised civilian ceremonies so Ken joined in as soon as he could. As part-time bandsmen the men were 'excused duties' and were sometimes awarded weekend leave (a rare thing at that particular stage of the war) after playing in some special parade.
These 'perks' came to an end on conclusion of my course, as I transferred to working naval air bases. Twelve months and two postings later found me on a naval air station on which a group of instructors, (of which I was now one), were in the process of forming a concert party. I was asked to mould the fix or six WREN volunteers into a dancing group. This turned out quite well, with a colourful stage tango in addition to ordinary routines, and our touring revue entertained at many army camps and air-fields in the Yeovil area.
Ken also became a magician's assistant for a time. I think he just had a go at anything. It's a wonderful thing to have such enthusiasm – and such confidence.
Many professional entertainers joined the forces during the war to serve their country – and the forces produced many a versatile entertainer. I would think stepping out onto the stage to entertain a battalion of bored men was a great learning ground. It wouldn't matter if your gags weren't funny, there'd be plenty of time to perfect them, to find what worked and what didn't.  And perhaps the troops, for a time, forgot their troubles just as the civilians tried to do back home.