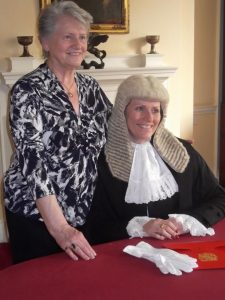 When my little sister was littler still she liked coming home from school for her lunch. I say lunch because I'm an adopted southerner but 'oop north we call it dinner – and we call dinner, tea. Yes, confusing I know. Story of my life. This was in the days when you could do such things as go home for dinner.
Anyway, she would come home not so much for my mother's superior food but because she could eat it watching Crown Court. She was about 6 or 7 at the time. That was when she decided she wanted to be a barrister. I think she fell in love with the wigs myself, but I digress. The seed was sown.
And that seed began to sprout from the darkness of the earth and grow.
Now at that time we lived in a pub on the seafront in Cleethorpes, that dazzling metropolis of the east coast. She went to an ordinary school and then on to an ordinary comprehensive.
When she was at that comprehensive she had a meeting with the careers teacher who was meant to give her good advice – well, one hoped that that was what it was for. When Taryn said she wanted to be a barrister the teacher's response was to tell her to lower her sights and aim for something more achievable. Can you imagine? I am outraged just typing the very words.
Thank heavens she had her dream, thank heavens she stuck to it. She sat her GCSEs and then went on to sit her A levels in the sixth form. Many young people will be doing much the same at this time of the year. My nieces and nephew are among them.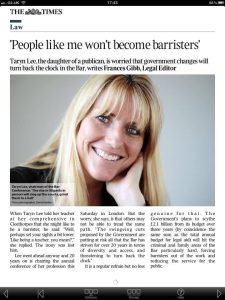 But things were not straightforward.
She didn't get the grades she'd hoped for so she stayed on at school a further year to get what she wanted. She didn't take her gaze off her goal, she wasn't deterred by the career teacher and she wasn't going to be derailed by her failed grades. She picked herself up – with my mum and dad cheering her on – and she kept going.
In the summer holidays to make money she worked in the local crisp factory making Disco crisps – I told you it was glamorous up north.
She went to university.
She didn't go to a top university, she went to Huddersfield. She threw herself into her work as she throws herself into everything in life and always has done. She worked hard but she partied hard too. She became the President of the Law Society. Her honoured guest was Peter Taylor, Lord Taylor of Gosforth, who became Lord Chief Justice. Another down to earth Northerner, an inspiration and a friend.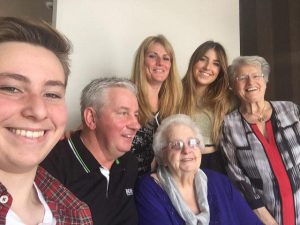 Even though she was supported by her family and Andy, her husband, it was her hard work and determination that got her through. The pair of them gave up a lot of time together, didn't get married until they could have the wedding they wanted, didn't have children until she achieved some sort of stability. Making your dreams become reality is possible but it takes sacrifice – along with many other things.
She got her degree and applied for bar school in London. She was taken on and promptly started educating her pupil master in the ways of the North. So scarred was he from the experience that he never again took on a pupil.
And while she was in London she didn't try to be anything but herself; she didn't change her accent, she didn't hide away and make excuses – she was always proud of where she came from.
Eventually she became a barrister.
We had no idea what a barista was in those far off days so there was no getting confused over her career choice.
She achieved her dream. In fact she excelled it and became a QC, she became a judge. My dad was very ill at the time but just before he died she received the news that she would be taking silk that year. He knew.
On what would have been my parents' emerald wedding anniversary Andy, their children Talia and Tom, mum, my sister Dianne and I went to Westminster Hall at the Houses of Parliament to witness the ceremony – a proud day indeed for our family. It goes without saying that Andy, Talia and Tom are proud of her but I'll say it anyway.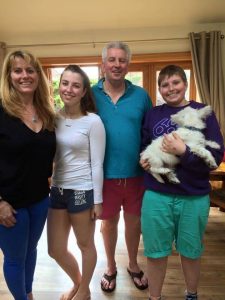 For anyone that thinks a barrister turns up, spouts long words for a few hours then spends the rest of their time living the high life let me enlighten you. I used to think exactly the same until I saw the work she put in – and still does. The hours and hours of study at her desk, the pages upon pages of documents that she reads well into the early hours. After a few hours sleep she will drive to her chambers or to a court and work all day before going back to chambers for more work and then the long drive home, perhaps a little relaxation with her family, then more work.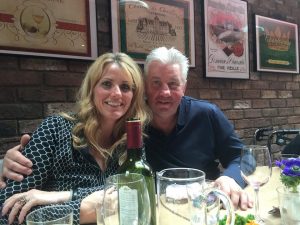 Her accomplishments are many more than I could put here. I have to limit my bragging or she will be embarrassed – she is probably cringing if she is reading this. But I  am so proud of her and it's not bragging – it is celebrating the culmination of all her hard graft.
She has done so many things in her life, helped so many people, inspired many others. She has been generous and kind along the way. There are a huge amount of people who are grateful that she came into their lives – and quite possibly a few behind bars that wished she hadn't.
Today, 1st June, she will be attending a garden party at Buckingham Palace with her husband as guests of the Queen and Prince Philip. To say that we as a family are proud is to totally understate all that we feel today. I hope she has the best time ever. She will be herself  – as she always has been. Her laughter will be heard across those lush green lawns and never forgotten by anyone present if something nudges her funny bone.
My mother is overwhelmed with pride and my dad will be bragging to St Peter up at the pearly gates. He may even get evicted. I can see his face beaming right now.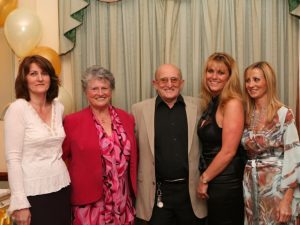 So, how do you make your dreams come true?
If you have a dream don't let anyone stop you, put you down or burst your bubble. Don't let ANYONE tell you to lower your sights.
But don't keep it to dreaming. You have to work hard to make that dream become a reality. You have to forego many things, make many choices – some will be easy, some will be difficult – but if that's how you want to spend your life then go for it.
And when someone you love achieves something precious to them, no matter how big, no matter how small, make sure you celebrate it with them.
Enjoying the success of others will make you believe that your dream can come true too. It's the best incentive there is.
Congratulations L'il sis x
We are the music makers and we are the dreamers of dreams – Willy Wonka