June 1940, Waterloo Station
On one of the hottest days of the year, newly qualified teacher Phyllie Saunders is evacuated with her school to Dorset.
As she struggles to control the crowd of tearful children, she sees Sammy. Her oldest and dearest friend is on the way to join his submarine, and as he kisses her goodbye, everything changes for them.
But now that war is tearing them apart, is it too late?
Phyllie throws herself into village life , determined to protect and nurture the children in her care. But war leaves no one untouched, and Phyllie will need all the support of the community to help her through the next few years, as she waits and prays for Sammy's safe return…
 Welcome Milly,
I've just read your first novel, Above us the Sky. What a wonderful read it was too, I was totally transported from the first page. What was your inspiration for the story?
Thank you, Tracy. I'm glad you enjoyed it. I thought it was time to feature the silent service, the submarine service and balance it with the Home Front: evacuees, teachers, the wounded, the fantastic work of the wartime WI. I like to write about the countryside. I find its relentless seasons, and its beauty a comfort in real life, and a good foil to the more dramatic goings on in the worlds I invent.
It was so real at times I felt I was in wartime England. Did you have to do a lot of research and where on earth did you start?
Yes, I did do a lot of research. My husband, an ex cold war submariner, found his submarine at Chatham Dockyard, so that was as good a starting point as any, something to kick off the research. We clambered all over it so I had a good sense of the life they lived. I am a member, and admirer, of the WI and had a very good, but old friend, who had been through the war in Somerset as a WI member. I remembered all she told me, and this was added to by others.
It's funny but when I think of evacuees I picture all those little children going off to the countryside on their own. It didn't cross my mind that adults would go with them too, and stay there. Or is that just me?
No, not at all. The war is  being forgotten, the duties of those who endured just fading. It's a shame, because people were committed, uncomplaining – just determined, and everyone did their bit, including teachers.
I think you portrayed the children so vividly, the fear they must have felt but also how cruel children can be to each other. Did you interview many former evacuees or did you mostly imagine how it must have felt?
I've always read about the war and I know many who were evacuated. I was born just after it, but I think for my age group, the war defined us, and the rebuilding afterwards, that went on for so long. We knew that if Britain was going to rise again, we just had to tuck in our chins, go without, work extremely hard, and get on with it.
 Where any of the settings based on real places in Dorset and how important is it to get these details correct?
I don't set in real places often but I did feature Dorchester. But on the whole I just strive to get the essence, and the atmosphere. Of course, I lived in Somerset for many years, and Dorset, so it's very familiar.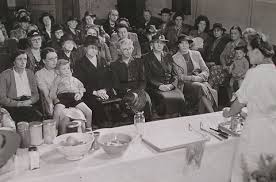 Do you think people underestimate the valuable work of the WI and are maybe dismissive, thinking that was simply a bunch of old ladies with nothing else to do but make jam and cakes?
Oh yes, undoubtedly. I often speak to WI groups and they are all terrific, and include all ages. I belong to one in Downley, near High Wycombe, and we not only learn a lot from the monthly speakers, but laugh together, and have fun. The WI members are a tower of strength to one another, and the community, just as the WI was in the war.
I loved Miss F. Everyone should have a Miss F in their life don't you think?
Ah, yes, and I have, the voluntary assistant manager at the charity shop where I work a couple of afternoons a week. She's a wonderful woman, amusing, strong, and not afraid of being blunt. The only way I have time to volunteer, is if I plot and write the books while I'm there, so I can be seen with a notepad while I work the till!
What next? I can't bear to think that you aren't working on another book and will it be set in Dorset?
I'm working on another at the moment, partially set in the west country, but also the Channel Islands and the Midlands. And that's all I have to say on it at the moment. Who knows who is listening …
Thank you for stopping by Milly and answering my questions.
Milly's book can be purchased on Amazon or in any bookshop or supermarket. It earned a well deserved entry into the top twenty books as soon as it was released.