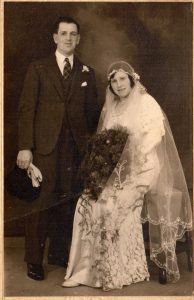 Where the Poppies Are
There was a framed scroll on the wall in my Nanny Lettie's hallway. It was facing the door to the lounge so that every time my Nanny left the room she would see it. Every year in November a poppy would be placed on top of it. My Nanny received the scroll from the King for the loss of her husband. It was a reminder of what he had given, a reminder of what she had lost.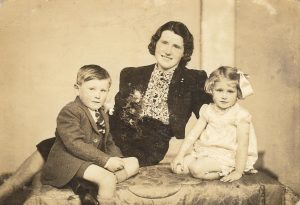 James William Rudder Meadows was serving on the minesweepers in WW2. He writes of near misses and how they had  'a bit of a scrape.' He writes of his worries and concerns:
'Well dear, I suppose you are all very worried at home now, about the air raids, but you must try and be brave and face them with a good heart.'
He writes about how much he loves her and misses her and his children. He hopes he will be spared.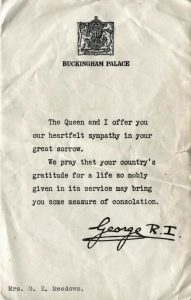 My mother remembers the last time she saw him. He was on the train going back to his base in Lowestoft. The train passed through the village where they lived at the time and my nanny went with her children to wait at the crossing so that  they could wave to him as the train passed by.
There was a bombing raid when he arrived at Lowestoft station and it was there that he was killed. My mum was only four when her father died, her brother, John was six.  My Nanny a widow at 27. She never remarried.
The Lowestoft Connection
I've been in contact with Sandra Beal – you may remember her from another post.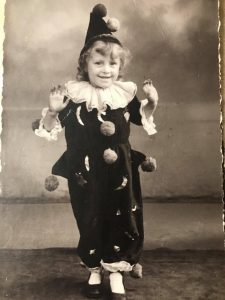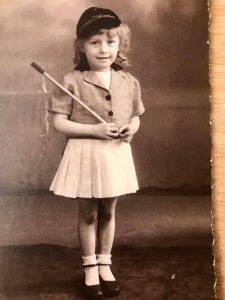 She was a child of four when she appeared at the Palace Theatre in an Easter show. She contacted me later to tell me that she had been chatting to her twin brother, Barry and he had reminded her of the reason why perhaps the event  has stuck out so clearly in her mind.
Our daddy appeared just as we were leaving the house. We never saw him again. My brother remembered him coming home and something he had said.  I can picture him, sat on the floor in front of the fire which had gone out, head on settee, fast asleep when we arrived back home. He had driven a long way that day, from up north somewhere – could have been Scotland. They were going south to a camp near Lowestoft, getting ready for D Day. (I have a letter my father wrote afterwards to our grandparents and he told them that as he was leaving very early next morning).

Barry came downstairs – and he said to him, "Daddy I don't want you to go to war." Like me he was only 3, going on 4. My father said in his letter he must have heard them talking, because he wouldn't understand at that age.

My father was killed New Year's Eve 1944 that same year.'
Another child, another memory. One that never leaves. And Sandra remembers as so many others do by collecting or donating to the British Legion Poppy Appeal. So if you drive down a certain road in Grimsby and you see a flag flying in a garden on a corner bungalow, and a crochet poppy wreath in the window you will know that that is where Sandra lives.
Last year Sandra and her family raised £1,375 selling poppies,  and over the years have raised thousands more.
There is a scroll on Sandra's wall too.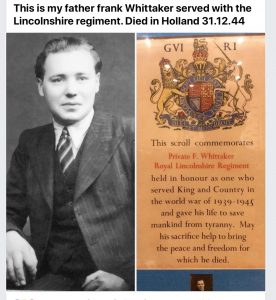 Sandra and Barry's father, Frank Whittaker was a wholesaler of fruit and veg on Freeman Street market. He served his country and gave his life for it. As did my grandfather.
These are just two of the stories behind the poppies – there are so many more. Stories of men who sacrificed their lives, stories of those who came home. There are the widows whose husband's never returned and children who grew up without a father. Sandra and Joan are only two of them.
We might not be able to get out and buy our poppies today but we can still donate to the British Legion or one of the many charities that support our armed forces.
We will remember them.