Anniversaries
It's our anniversary today, not that we ever make a note of it. We never exchange cards, flowers, or go out. I've always been of the mind that we should treat each other kindly every day and not just one. Well, in theory anyway, and mostly it works.
We've been together a long time now so don't tend to do anything unless it's  special – like 25 or 30 years. I only remembered it's our anniversary today because we'd been out for lunch yesterday and I was sitting on the sofa when we got home thinking, we could use it as an anniversary lunch. I'm very practical like that!
We'd gone to Prezzo. The lovely young waitress came over with our drinks. She placed the prosecco in front of me and the cranberry juice in front of him, smiling delightfully at both of us as she did so. Happens every time. We swapped drinks. He smiled back.
'What did she say'?' he asked, after she'd left.
What he heard: You are the most handsome man I have ever seen.
What I heard: prosecco and cranberry juice.
He makes me laugh so much and that's what works for us – that and hiding the sharp knives.
Timely Reminders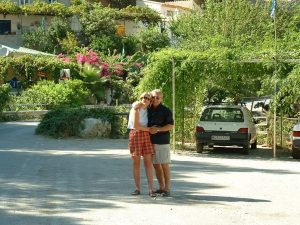 One year we were in Spain with the kids, looking around a toy shop in Marbella old town. We weren't speaking – we'd fallen out over something or other. Something so important that I can't for the life of me remember what it was. He found me in one of the aisles and walked towards me holding out his mobile phone (not a euphemism, naughty, naughty!).
'It's my dad, he wants to speak to you.'
I'm wondering what the hell my father-in-law wants to talk to me about. Then I put the phone to my ear and all becomes clear.
'We thought we'd ring and wish you Happy Anniversary,' he said.
'How lovely,' I replied, trying to be as gracious as possible. We exchanged a few niceties and I passed the phone back, gritting my teeth and scowling. We had both completely forgotten.
We obviously made up – we're still together – but that 's what marriage is, isn't it?  It's not all roses and rainbows. It can be rows and silences. It can be drudgery and boredom but boy it can be fun and laughter if you can stick it through the bad times.
Today he's  playing golf then going out for dinner with two of his friends.
I'll at home, writing, and dinner will be beans on toast.
And we'll both be happy about it.