A Series of Mistakes
Many moons ago, when I first found out that my daughter had an eating disorder I momentarily lost my judgement – among other things. It was Christmas and not only did I overcook the turkey (doesn't everyone?) I undercooked the ham  – and then shrank her favourite cardigan.
So what. It's not the end of the world.
Exactly! But at the time it felt like the straw that broke the camel's back – or mine. I searched the internet for most of the Christmas holiday looking for ways to unshrink a jumper. Nothing I attempted worked. It was ruined and I felt a complete and utter failure.
Fast Forward
How time changes things. This week I put my husband's cream wool cardigan in the washer with a bunch of other stuff. I squinted at the label and, too lazy to fetch my reading glasses, bunged it in the washing machine, thinking the cardigan was a wool mix. Oh dear, should've gone to Specsavers.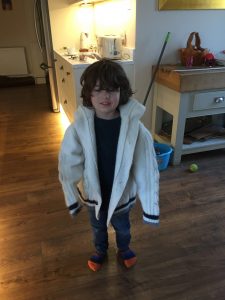 When I retrieved the now tiny cardigan from the washing machine I laughed – it looked better shrunken, it had  a better texture. I dithered whether to confess. Should I? Or should I stuff it in the dustbin? Or donate to the charity shop and deny all knowledge? I might get away with it. We've been renovating our house so it could have easily disappeared in all the mess and mayhem over the last few months. I didn't even attempt to fix it. I pulled at it a bit but knew from previous experience that it would be a waste of time and not worth the stress involved.
I hid it in the tumble dryer knowing that his nibs would never look in there, while I decided what to do.
Then good fortune fell into my hands rather nicely. He locked his car keys in the boot of the car. The silly things we humans do. I seized the perfect opportunity to make my confession.
And guess what. He laughed.  He couldn't believe that I had shrunk anything so small. It was examined in great detail with awe and wonder. Wow, I never knew I was so clever. How could I shrink it that much?
Which just goes to show that, over time, depending on the circumstances, disasters can turn into triumphs. I had learnt, as Rudyard Kipling advised, to meet those two imposters just the same 
I went one better and discovered the perfect solution. It fits the grandchildren – almost. And they are all bound to grow into it, eventually.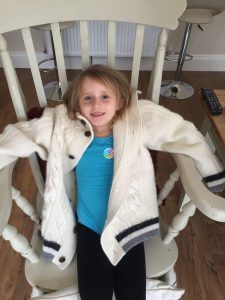 So, if it happens to you my advice is to hide it until you have grandchildren – no matter how far off that may seem. Don't get upset over these little things that derail you.
Many of the things that we think are the worst things to happen to us can be overcome – with time, love, understanding and a healthy sense of humour. There will always be straws and camels and laughter lightens the load.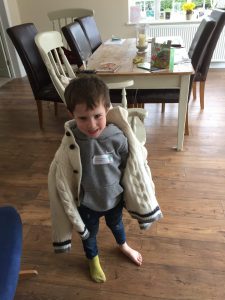 Alternatively, you could try the following that I tried 6 or 7 years ago:
How to Rescue a Shrunken Jumper
Add 2 tbsp of baby shampoo to a bowl of cold water and stir with a wooden spoon
Soak the jumper for 25 minutes and then remove
Roll the jumper tightly in a towel to squeeze out excess water
Open out the towel and begin to gently stretch the jumper back to its original size
Leave to dry on a flat surface
Let me know how it works for you 🙂