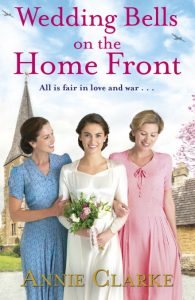 March 1942: As the war continues, wedding bells are ringing for the factory girls . . .
Sarah is happily settling into married life with new husband Stan, whilst Fran is busy planning her upcoming wedding to sweetheart Davey, who's still conscripted to Bletchley Park. With limited resources, the girls must make do to create the perfect day.
Meanwhile, Beth has other things on her mind. She hasn't heard from her husband Bob since he returned to the navy, and she's starting to fear the worst. And new friend Viola is still recovering from a nasty accident.
Life on the home front can be challenging, but with the support of one another, the factory girls can get through anything.
It takes great skill to weave together a series, writing books that can be read as standalones yet weaving through a thread that pulls them all together. Annie Clarke is such an author and her Girls on the Home Front series has been a joy to read.
The latest book – Wedding Bells on the Home Front doesn't disappoint and it was an absolute pleasure to catch up with the goings on in Massingham, a fictional pit village in the north east of England. If you've read the two previous books you'll be thirsting to discover how the girls are getting on since Heroes on the Home Front – and if you're new to the books you'll soon be drawn into the tight knit community that Annie Clarke has created.
I feel I know these girls, their friends and families. There is such a great sense of humanity about the characters, their trials and tribulations and you can't help but weep with them and rejoice with them. And I do so love the banter between Mrs Oborne and Bert!
The Massingham family who own the colliery are not without their problems either but everyone is doing their bit towards the war effort. Yet all is not what it seems and those who have perhaps wandered down the wrong path are trying to right those wrongs as best they can. I don't want to give too much away but having loathed one character in books one and two that person seems to be finding a way to redemption. Such is life.
Delicately woven through the book are the threads of books one and two, which never slows down the story yet gives a refresher of what readers of previous books might have forgotten. It's a fine balance and Clarke carries it off with aplomb.
Wedding Bells on the Home front was a wonderful read and it took me right into the world of Sarah , Fran and Beth once more. It begins with a wedding and all the joy and happiness that goes with it but then it's soon back to work in the munitions factory for the girls. There is such care and attention to detail given to the scenes when the girls are working that many times I held my breath. It really gave me a sense of what this work was like, the gravity of it – and the side effects these women and girls endured.  But, as always there is much fun and laughter – much as there is in life. We all have our troubles but with friends and family we will get through. That's what you'll discover when you read a book by Annie Clarke.
About Annie Clarke
Annie Clarke's roots are dug deep into the North East. She draws inspiration from her mother, who was born in a County Durham pit village during the First World War, and went on to became a military nurse during World War Two. Annie and her husband now live a stone's throw from the pit village where her mother was born. She has written frequently about the North East in novels which she hopes reflect her love and respect for the region's lost mining communities. Annie has four adult children and four granddaughters, who fill her and her husband's days with laughter, endlessly leading these two elders astray.